john

paul

george

ringo
An intimate experience with the Fab Four-In-One
A solo show and tribute act starring Dave Jay
Directed by Brad Calcaterra & Dave Jay
Hear stories behind songs you love & sing-a-long too…
and of course, ask any Beatle any question.
Booking Info Original Music from the show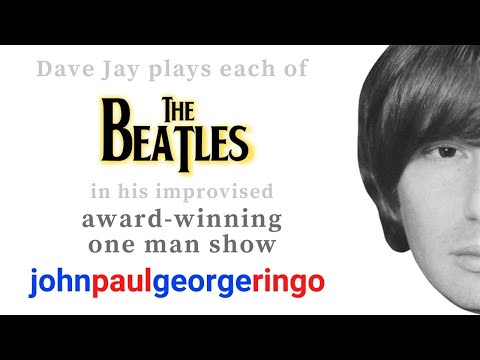 "It takes a fair amount of charisma to carry a one-man show; to do so while impersonating four iconic rock stars is an especially tall order. In johnpaulgeorgeringo Dave Jay does just that… thoroughly entertaining and a must-see for Beatles fans" – Laura Gamble, TimeOutNY
"Dave Jay…we just want you to remember the name" – Barbara Walters, as seen on ABC TV's THE VIEW
"His impersonations are more than just vocal distinctions — Jay captures the angle at which the severely nearsighted Lennon held his head, and hair-tossing and other charming-while-insecurity-revealing bits of McCartney's body language…[are] spot on" – Stuart Miller, AMERICAN THEATRE
"Watching [Dave] Jay transform between Beatles and converse among them — speaking as John, then switching instantly to Paul to add a side comment, then changing back to John for a witty response — is theatrical bedazzlement at its best… a real treasure for dedicated Beatles fans " – Erin Faigh, NYU NEWS
"An instantly likeable, attractive guy with a great smile and charming manner, Dave Jay simply changes voice and personality to be the Beatle of the moment, as easily as you'd change TV channels with a remote" – Rob Lester, EDGE
Show Options
The show is malleable and can take many forms, such as:
ORIGINAL FORM  (1 HOUR & 20 MINUTES)
Opening song "I Want To Hold Your Hand" (SFX: large audience screaming/strobes scattered throughout the venue which simulate flashbulbs popping).
Each Beatle introduces himself to the audience for a few minutes each (establishes characters, where they are from, some early influences and how they met), and each performs a brief version of a famous song he wrote.
Tell back stories of popular songs (seamlessly morphing between characters as they interject on each other), and play abbreviated versions on acoustic guitar.
Q&A with johnpaulgeorgeringo. For larger audiences, the audience needs to be informed prior to the show (i.e., promotionally or at least in the lobby) that they will be able to ask any Beatle any question, and provided with a 3 x 5 index card/golf pencil to write their question, name and where they are from.   There are also pre-recorded "call-in questions" (presumably from the home television audience).
The point is made that even if The Beatles were ever to have reunited, it could never be the magic that was The Beatles the way it had been, but it is the music that's important, and a closing 17-song medley is performed.
OPENING ACT  (35 MINUTES)
Same as above, but shorter; can adjust or eliminate the songs and/or questions portion.
STROLLING/PERSONAL INTERACTING/EMCEE/ "DINNER WITH JPGR" (OPEN ENDED)
Freeform improvisation in character(s)
"FAB FOUR JR."/CLASS ROOM/SCHOOL VISIT (45 MINUTES)
Generally the same as "ORIGINAL FORM" above, but with more sensitivity to the age/learning level, and therefore, while telling the Beatles' story, taking care to make sure the students understand certain important details (i.e.,  if they know where England is, when it is mentioned in the beginning that it is where the band is from).